(TM)
9484 Westside Rd. Forestville, CA 95436 (707)887-7531
------------ Laser-cut ------------
N-Scale
Structures
Welcome to Geezerworks.com. We are a new company , but we have been modeling since 1952 hence the "Geezer" in the name. Our focus is to provide limited edition craftsman quality Laser-cut N Scale kits based on west coast prototypes.
Our west coast models will initially center around transition era buildings and the first kits are scheduled for the Fall of 2008.
In the "Works"
Click to enlarge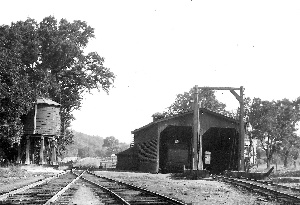 Photo courtesry of The Northwestern Pacific Railroad Historical Society
The Glenn Ellen Engine Facility
Genn Ellen History
The kit will contain A two stall Engine House ,Water Tank,Gallows style Turntable ,Ash pit

Production will limited to 250 kits and is scheduled to be released in Summer of 2009.
If you would like to contact us, we would like to hear from you. Send your ideas or comments to
Geezerworks
If you would like to placed on our mailing list, to receive the latest "Geezer-news" and advance notice of new kits
Add me to the list
(We do not sell, distritbute, fold, spindle, or mutilate our lists.)
LINKS